11th Bienal Douro Portugal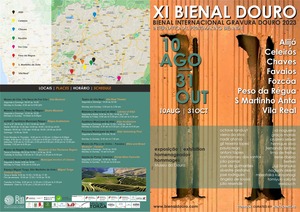 11th INTERNATIONAL PRINTMAKING BIENNIAL 2023 | 10AUG-31OCT 2023
11th INTERNATIONAL BIENNIAL OF GOLD ENGRAVING 2023 | 10AGUST-31AUGUST 2023

500 ARTISTS. ARTISTS | 800 WORKS WORKS | 65 COUNTRIES. COUNTRIES | 15 EXPOSIONS EXHIBITIONS | CONFERENCES CONFERENCES | PERFORMANCE | WORKSHOPS | 6 MUNICIPALS. COUNTIES

(Alijó Municipal Auditorium, Alijó Municipal Library, Alijó Municipality Pools, Alijó Public Space; Museum of Bread and Wine of Favaios; Museum of the Flavian Region and Municipal Archive of Keys; Côa Museum; Museum of Gold and AUDIR - Municipal Auditorium of the Weight of the Régua; Cultural Space Miguel Torga and Quinta do Portal (Sabrosa); Vila Royal Theater.
Total of 15 exhibitions distributed by 6 municipalities (Alijó, Chaves, Fozcôa, Peso da Regua, Sabrosa and Vila Royal)

- Exhibition of 500 artists from 65 countries (various locations)

- Exhibition/Honored | Mommages (Octave Landuyt, Vieira da Silva, Nadir Afonso, Gil Teixeira Lopes, Paula Rego, Antoni Tàpies, Bartolomeu dos Santos, Julio Pomar, José de Guimarães, Silvestre Pestana, José Rodrigues, Angelo de Sousa, Julio Resende, Sá Nogueira, Graça Morais, Cruzeiro Sixas, Henrique Silva, Fernando Lanhas, Lima de Freitas, Irene Ribeiro, Herten, Iuji Hiratsuka, Noguchi Akèmi, Tomiyuki Sakuta, Masataka Kuroyanagi and Weisbuch)

- Xylon exhibition Austria
- Biennial Commissioners Exhibition
- Art in Public Space
- Performance by Silky Pestana
- Conferences and Workshops

Sasja Lucas
Printer's Landscape
woodcut/monotype
Cultural Space Miguel Torga


---
MGNE Art of the Unique Print Concord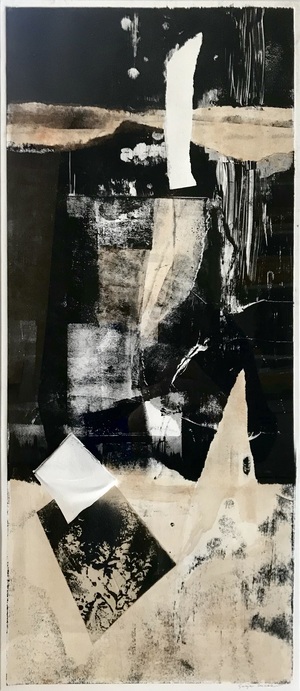 The Art of the Unique Print
A Monotype Guild of New England
Open Members Exhibition
Newbury Court
100 Newbury Court, Concord, MA 01742
Show Dates: June 9 – August 19, 2023
ARTIST RECEPTION: Sunday, June 25, 3-5pm
---
Quilts and Fibers Exhibition at the Menino Arts Center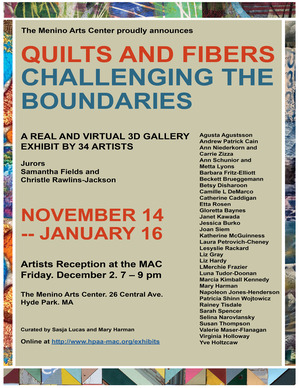 Quilts and Fibers - Challenging the Boundaries




November 14 – January 16



Juried by
Samantha Fields
https://samanthafields.com/
Christle Rawlins-Jackson
https://www.jacradesign.com/

Artists' Reception: Friday, December 2, 7 – 9 pm

Curated by Sasja Lucas and Mary Harman
Menino Arts Center

---
33rd Annual Members Exhibit at the Menino Arts Center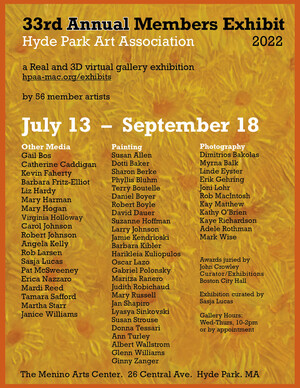 33rd Annual Members Exhibit
Hyde Park Art Association
2022
a Real and 3D virtual gallery exhibition hpaa-mac.org/exhibits
by 56 member artists
July 13 – September 18
Other Media
Gail Bos
Catherine Caddigan Kevin Faherty Barbara Fritz-Elliot Liz Hardy
Mary Harman
Mary Hogan
Virginia Holloway Carol Johnson Robert Johnson Angela Kelly
Rob Larsen
Sasja Lucas
Pat McSweeney Erica Nazzaro
Mardi Reed
Tamara Safford Martha Starr
Janice Williams
Painting
Susan Allen
Dotti Baker
Sharon Berke Phyllis Bluhm
Terry Boutelle Daniel Boyer
Robert Boyle
David Dauer Suzanne Hoffman Larry Johnson
Jamie Kendrioski Barbara Kibler Harikleia Kuliopulos Oscar Lazo
Gabriel Polonsky Maritza Ranero Judith Robichaud Mary Russell
Jan Shapiro Lyasya Sinkovski Susan Strouse Donna Tessari Ann Turley Albert Wallstrom Glenn Williams Ginny Zanger
Photography
Dimitrios Bakolas Myrna Balk Linde Eyster
Erik Gehring
Joni Lohr
Rob MacIntosh Kay Matthew Kathy O'Brien Kaye Richardson Adele Rothman Mark Wise

Awards juried by John Crowley Curator/Exhibitions Boston City Hall
Exhibition curated by Sasja Lucas

Gallery Hours: Wed-Thurs, 10-2pm or by appointment
---
MGNE Unique Impressions 7 Zullo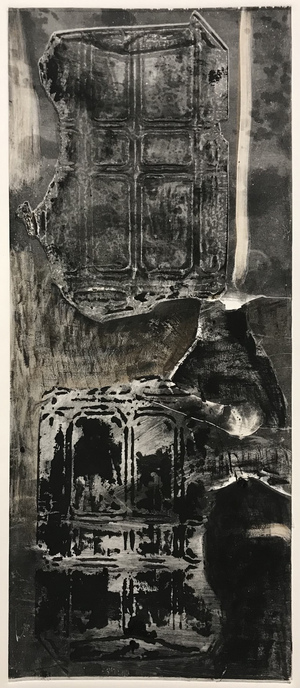 Unique Impressions VII
A Monotype Guild of New England
Open Members Exhibition

Zullo Gallery
456 Main Street, Medfield, MA 02052

SHOW DATES: July 9 – August 20, 2022
ARTIST RECEPTION: Thursday, July 14, 2022, 6 – 8pm
The exhibit will consist of the FIRST 60 ENTRIES.


---
Morphed Visions at Menino Arts Center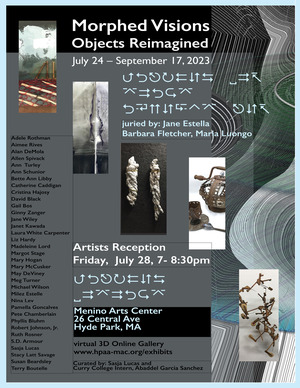 Morphed Visions, Objects Reimagined, a juried exhibition, 2023

Exhibit Theme: Giving the viewer a different perspective on the objects' original purpose [...] Putting the objects together into assemblages […] A reimagined interpretation of found objects and items

Exhibition Dates: Monday, July 24 – Sunday, September 17
Artists' Reception: Friday, July 28, 7 - 8:30pm

Menino Arts Center, 26 Central Ave, Hyde Park, Boston, MA

Sasja Lucas
Desiderium
11 x 15.5
16.75 x 20.75 framed
Digital collage
$550
---
Violence Transformed, Unquiet Voices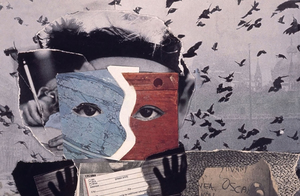 <!--begin kunstmatrix--> <iframe allowfullscreen="true" frameborder="0" scrolling="no" src="https://art.kunstmatrix.com/apps/artspaces/?external=true&language=en&uid=41168&exhibition=10797923" width="100%" height="600"></iframe><!--end kunstmatrix-->
---
5 Global Print 2022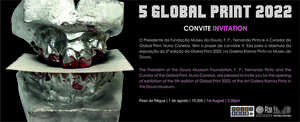 Global Print Exhibition, Douro, Portugal 2022
367 artists from 52 countries
Gold Museum and Douro Museum of Regua City;
Municipal Auditorium of Regua City;
Municipal Library of Alijca,
Cultural Space Miguel Torga in Sao Martinho of Anta;
Exhibition Inauguration:
Douro Museum, Regua City
August 1, 3:30pm
Exhibition Inauguration:

AUDIR, Municipal Auditorium of Peso da Regua
July 31, 3:30pm
---
33rd Annual Members Exhibition: Hyde Park Art Association
---
Shared Habitat Earth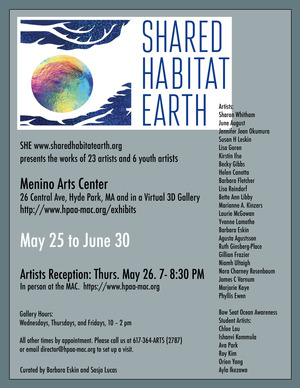 ---
MGNE, South Shore Art Center, One-of-a-Kind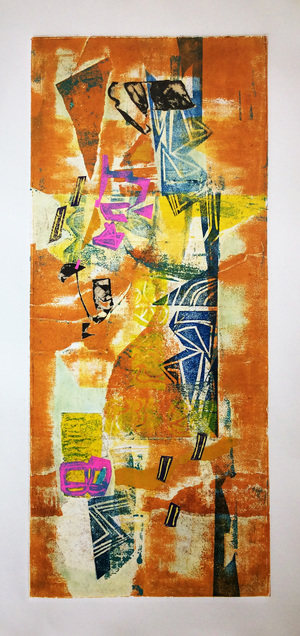 'ONE - OF - A - KIND'
Artists' Reception:
Thursday, March 3, from 6 to 8pm
Juried Members Exhibition
February 24 – April 2, 2022
Bancroft Gallery at South Shore Art Center
119 Ripley Rd. Cohasset, MA 02025
Open Hours:
Monday – Saturday, 10am – 4pm
JUROR: Catherine Kernan is a printmaker, painter, and author. She is co-founder and partner of Mixit Print Studio, a professional, open-rental printmaking studio in Davis Square, Somerville, Massachusetts, and co-author of Singular & Serial: Contemporary Monotype and Monoprint. She has been creating art since 1980. Her work can be found in the collections of the Boston Museum of Fine Arts, the Fogg Art Museum at Harvard University, the Library of Congress, the National Museum of American Art, and numerous other public institutions.
This Equals by Sasja Lucas
monoprint, 33x16
---
The Drawing Exhibition